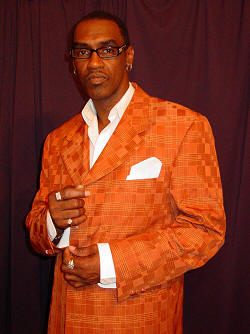 The Biography of "Mr. Sam"
Writer, Vocalist and Producer
Who is "Mr. Sam"? "Mr. Sam" was born Sam Fallie in Memphis, TN. "Mr. Sam's" family moved to LA while he was a small child, but relocated back to Memphis when he was 10. While living in LA, "Mr. Sam" discovered a love for music. From this discovery "Mr. Sam" joined his High School Choir and there he gained notoriety for his talent. After completing High School "Mr. Sam" formed several groups (Mellow Mystics, Naked Truth Band and Perfectionist) but all were short lived. Even though the groups were short lived something good did come out for "Mr. Sam" while performing with the group "Perfectionist". The Legendary Great Late Allen Jones, Producer and Manager for the infamous "Bar-Kays" asked "Mr. Sam" to come aboard as a Staff Writer and he has been on his way every since.
"Mr. Sam's" writing abilities have been compared to such greats as "Homer Banks" and "Lionel Richie" and you will soon learn why. "Mr. Sam" has written several hits for the "Bar-Kays" such as: "What Goes In Da Club Stays In Da Club" featuring "George Clinton", "Holla If You Like That", "My Everythang" and "Lets Git Bizzy", "J. Blackfoot": "It Ain't Over", "I'm Just A Fool" featuring "Lenny Williams" and the remake with "Sir Charles Jones", "Archie Love": "Should Have Been There For You" and "Same Woman" featuring "J. Blackfoot", "Theodis Ealey": "Move With The Motion", "Jerry L".: "Girls In The Hood" and "Daily Love", "Mr. Sam" also wrote "You Gon Make Me" and "Heartache" which won Southern Soul Artist "Lacee" (Best Female Artist of the Year 2006).
Now "Mr. Sam" is "Lookin 4 Love" the title cut from his own debut album released on "MíLaĴa Records". Other hits from his debut album are: "I'm Comin' Home" and "12 Steps for Cheaters" that's who "Mr. Sam" is.
For more information, interviews or booking please call "MíLaĴa Records" at 901-405-1490. Are You "Lookin 4 Love"? Now! "Who Is "Mr. Sam"?
"Mr. Sam" is under the management of Jazzii Entertainment & Productions, Memphis, TN.
CHECK OUT Mr. Sam's MUSIC SAMPLES
FROM THE ALBUM "LOOKIN 4 LOVE"
| | | |
| --- | --- | --- |
| PHOTO GALLERY | CONTACT US | ARTIST ROSTER |